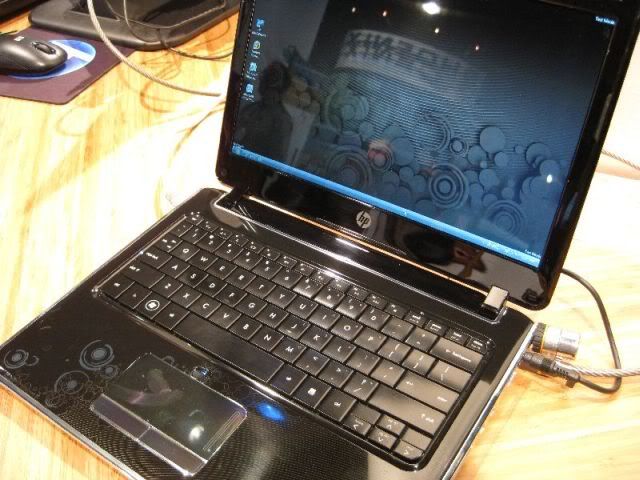 HP pavilion users will be more pleased with the addition of an increasingly wide screen and high-quality and brighter.
Yesterday AMD blew the cap off its netbook defense with the annoucement of the Yokon platform and Athlon Neo processor that is destined not for netbooks but for larger 12- to 14- inch laptops termed "ultrathin notebooks" by the company.
The first of its kind sh HP's Pavilion dv2. AMD claims its 1.6-GHz Athlon Neo processor will be more powerful than intel's Atom which is popping up in 12-inch laptops all over the place here at CES (ASUS S101, MSI X320).
We got some hands-on time with the HP dv2 ($599.99) yesterday. Measuring 11.5 x 9.5 x 0.93 inches, its not as slim as the MS X320, but for its $699 starting price it is a very lean-looking ultraportable.
The size is similiar to that of the system is a glossy black (also available in white) and on the palm rest is a flowy Pavilion design. The system is definitely heavier than a netbook, but at 3.8 pound it won' break your back. Surrounding the system are three USB ports, VGA, Ethernet, and HDMI-out.
Thanks to its 12-inch display and larger build, the HP Pavilion dv2 doesn't have a cramped netbook keyboard (though HP's Mini 1000 ($349.00) and 2140 are home to really comfortable netbook keyboards). While it is odd that the netbook doesn't contain d full-size keyboard like many 12-inch notebooks, the keys were nicely spaced and comfortable. The dv2's glossy, 12-inch display was bright and ran DVDs smoothly using an HP-branned optical drive.
The 1.6-GHz AMD Athlon Neo MV-40 processor is the heart and soul of the device and is paired with the ATI Mobility Radeon HD 3410. The system we were hands-on with had a 500GB hard drive, 4GB of RAM, and Windows Vista Basic. This was obviously a higher-end SKU, most likely priced in the $900 range. The system will start at $699 with 1GB of RAM and a smaller-capacity hard drive.
We are planning some are time with the dv2 later this week to get some more performance impressions of the new AMD platform. In thd meantime, check out our hands-on video below and stay tuned for more information on how the Athlon Neo compares the Intel Atom processor.